Contact Info
Credo Technology Group, LLC
Eric Johnson
385 Freeport Blvd
Suite 1
Sparks, NV 89431
Phone: 775-636-8378
Contact Form
Visit our Website
Photo Tour
This will show up if the script is missing or flash isn't installed
Hours of Operation
9am-6pm Monday-Friday. Saturdays by appointment.

About Us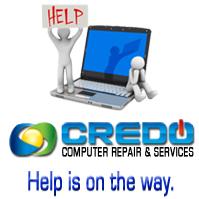 Be sure to visit our Reno Computer Repair and Web Design Site.
What Makes Us Different
We believe in helping people. Our vision is to build a strong enough company with the support of our business and residential customers so we can "Pay I.T. Forward"™ by helping non-profits on a truly tight budget, seniors, veterans, and the disabled on low, fixed incomes. We also have a program for new businesses with little start-up capital. Don't get us wrong - we help everyone - and at fair prices! Preventative maintenance is our specialty which not only saves our customers money on computer services but money from loss of productivity. The world of computers is already cold and harsh enough; we believe in bringing back the human touch, it is humans that we deal with after all.

We provide computer repair, computer upgrades, virus removal, remote computer support, web design, web development, social media management, online backup, antivirus software, and much more, right here in the Reno, NV and Sparks, NV area.

Be sure to check out our technology blog.