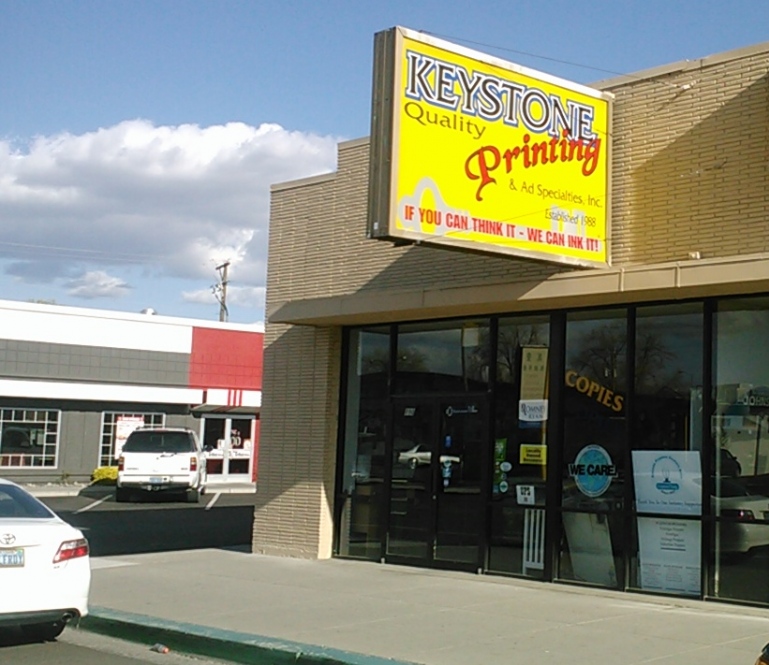 Contact Info
Keystone Quality Printing
David Lyson
890 W. 5TH ST.
Reno, NV 89503
Phone: 775-323-7716
Fax: 775-323-6517
Contact Form
Visit our Website
Photo Tour
This will show up if the script is missing or flash isn't installed
Services
Promotional Advertising Items
Signage
Wedding Announcements
WEARABLES
CARRY-ABLES
DRINKWARE
WRITABLES
HANGABLES
STICKABLES
LEAVE BEHIND-ABLES
Hours of Operation
Hours of Operation: Monday–Friday | 8a till 5p
Service Area: National Ample Parking
Satisfaction Guaranteed
Membership: ASI
About Us
Printing & Copying Services & Advertising Specialty Items
Serving Reno, Sparks, Chilcoot, Quincy, Truckee, and Portola.
Business Cards • Business Stationery • Business Forms • Promotional Products • Invitations • Announcements
PHONE 775 323.7716 890 West 5th Street Reno Nevada Toll Free: 877 693.0353
CHECK OUT our LogoMall, your virtual catalog to more than 176,000 pictured items that are ready for your Company Name & Logo. And, while you are there, be sure to enter our monthly drawing worth $1000 in specialty items.
Welcome
Thank you for visiting Keystone Quality Printing (KQP) online. Locally owned and operated by experienced printing industry professionals. KQP is a full service Offset Printing, Digital Printing, and Advertising Specialties company serving Reno, Sparks, and all of Northern Nevada. Additionally, KQP works in conjunction with the best manufacturers across the United States to deliver over 1,000,000 promotional items at affordable prices. So we can truly say
"IF YOU CAN THINK IT, WE CAN INK IT"
KQP was established in 1988. Each of our employees are skilled and committed to the craft of printing. KQP wants your experience to be a quality one, so we hire only skilled employees with a minimum of 20 years experience. We take an interest in each and every project, providing professionalism, quality work and timely deliveries.
Whether for short run digital or long run offset, KQP specializes in affordable, quality printing from One color to Full Color and copying from High Volume black and white to Full Color. Come to our printing and copying service center where we provide printing specialties from business stationery and cards to wedding announcements and beyond.
Business Stationery
Letterhead
Envelopes
Business Cards
Spot Color to Four Color Process (Full Color)
Raised Print or Flat Printing
Copying
Graphic
Design
Business Forms
Carbonless Forms
Labels
Invoices
Rack Cards
Sales Sheets
Booklets
Business Accessories
NewsLetters
Advertising Specialties
Posters
Rubber Stamps
Programs
Raffle Tickets
Banners
Hats
Sports Bottles
Magnets
Full Bindery Department
Additional Products
Wedding Announcement
Birth Announcements
About Our Store Since 1988,
our business has been geared to meet your deadlines from creating menus for your restaurant or creating booklets for your business. In addition to offering traditional printing services, we also print using the cutting edge digital process. Ask about our variable data services for your next direct marketing program. Our Printing service center is excellently located right off of I-80.
Contact us for all your printing needs and promotional items. Keystone Quality Printing, providing all our customers with guaranteed work and the best materials.
Call for Details about Discounts for Churches or Non Profit Organizations, (Some Rights are Reserved)
Come to our printing and copy service center in Reno, Nevada, where we provide printing specialties from business cards to wedding announcements.